UK Tour of Immortalized Heroes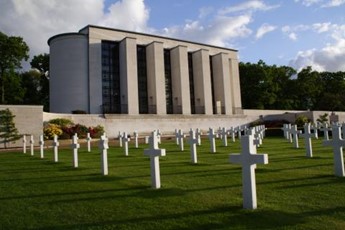 A UK tour of Cambridge isn't complete without a stop at the Cambridge American Cemetery and Memorial. Situated between the humble English villages of Coton and Madingley, this site stands to honor the brave American servicemen and women who served during World War II. 
Those who fought for freedom during World War II have been immortalized at the Cambridge American Cemetery and Memorial. Established in 1943, the courageous servicemen and woman who reside between its walls passed away between 1941 and 1945.
Donated by the University of Cambridge, a UK tour of the Cambridge American Cemetery and Memorial will reveal that the land spans a considerable 30.5 acres. Many of those buried there fought bravely in the "Battle of the Atlantic" or sustained fatal wounds during the tactical air bombardment across North West Europe. 
After the fateful attack on Pearl Harbor, the United States took up arms and made their way to Europe. Consequently, many were involved in The Battle of the Atlantic, a naval battle that extended across the Atlantic Ocean. The purpose of this military campaign was to secure crucial Allied shipments from being intercepted by German U-boats. Through the heroic acts of military men and women, the Allied forces secured a victory in Europe during World War II. 
A Courageous Sacrifice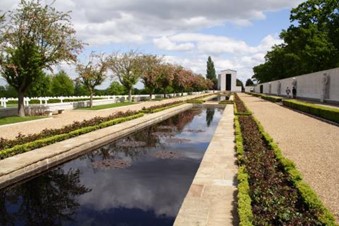 After the war, to honor the Americans who fought in Europe, Cambridge was chosen as the location for the American Cemetery and Memorial, the only permanent American World War II military cemetery on the British Isles. If you participate in a UK tour of these grounds, you'll learn that the remains of 3,812 servicemen and women are buried at this site.
In May 2014, a visitor center was opened, making this location an ideal destination to visit during a UK tour. Furthermore, the center contains a wealth of information such as exhibits that retell the stories of the brave men and women involved in the war. To give visitors an immersive UK tour experience, numerous photographs, films and interactive displays have been made available to provide a clearer understanding of this key moment in history.
Additionally, the on-site staff are ready to answer all your questions relating to this turning point in human history. They regularly show visitors around the premises, informing guests about the historic importance of this moment in time. This historical site serves as the ideal location for anyone interested in World War II history.
A True Patriot
If you're an avid historian or American patriot, a UK tour that includes a trip to the Cambridge American Cemetery and Memorial is essential. Since we provide customized tours, we can tailor a UK tour to fit all your requirements. Thankfully, there's no restriction on the number of destinations you can add to your itinerary. Why not combine a vacation to Cambridge with the historic attractions in London or the beautiful countryside around Oxford? Because our guided tours are pre-arranged, you can simply relax and enjoy the stunning scenery, ancient architecture and vibrant atmosphere of Great Britain on your UK tour!
If you would like a quote for your UK tour or vacation, then please fill in our online form or call us on 347-594-5500.
Search Keywords
Enter keywords below to perform a search within the events to find more relevant posts