Best Multi-center Tours in the UK
With its diverse landscapes, culture and cuisine, the UK is one of the best countries for a multi-center vacation in Europe. However, with so many world-famous cities to choose from, such as London, Cambridge, Oxford and Edinburgh, you may very well be struggling to decide which cities to visit on your UK multi-city tour.
So, if you're in need of some travel inspiration, here are some of our favorite combinations for a diverse and memorable UK tour.
London, Cardiff and Edinburgh: A Tour of the Capitals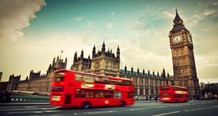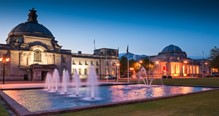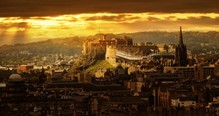 If you want to experience the many faces of British culture, then we highly recommend this tour of the capitals, which takes you to the capital cities of England, Wales and Scotland. Thanks to the UK's public transport system, it is easy to travel between these cities in comfort on the train.
London, the capital of England and the UK, brings an eclectic mix of city vibrancy, fashionable cafes, designer shopping and historic attractions. There are almost too many "must-sees" to name, but you really can't miss seeing Big Ben and the Houses of Parliament, Buckingham Palace, Tower Bridge and the Tower of London, and St Paul's Cathedral. For more ideas on attractions to visit during your vacation in London, please see our recent blog on London's must-see attractions.
Cardiff, meanwhile, brings wholesome charm and plenty of intriguing attractions, such as St Fagans National History Museum and Cardiff Bay, making it ideal for a family vacation in the UK. There are also many parks to enjoy around Cardiff and we particularly recommend the Forest Farm Country Park, which features tranquil woodland, rare British wildlife and a river teeming with life, including ducks and herons.
Finally, Edinburgh is like no city you have visited before. This cosmopolitan city seamlessly blends the history of Scotland with a modern vibe that is simply captivating. It has numerous ancient sights to enjoy, including hidden gems on the Royal Mile, Edinburgh Castle and the unusual architecture on Princes Street. We also highly recommend visiting Holyrood Palace, where the Queen stays when she's in Scotland, and if you want to take in sublime views of the city and countryside, take a walk up Arthur's Seat and we promise you won't be disappointed!
Oxford and the Cotswolds: City and the Countryside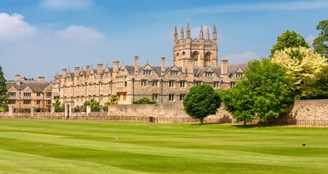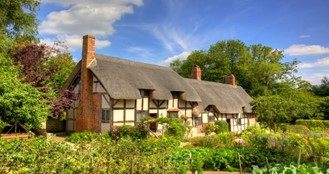 If you are desperate to see some of the famous English countryside, then we love the combination of Oxford and the Cotswolds.
Oxford is best known as one of the UK's top universities and, here, you can admire the impressive university colleges, which are built with characteristic golden-colored stones. The Bodleian Library, which is the UK's second largest library, containing over 11 million works, is particularly beautiful, as is the Radcliffe Camera, which is an 18th-century Palladian-style university building. Some of the university buildings open their doors to visitors, so it is well worth stepping inside one if you can!
The Cotswolds is a region of the UK that is revered for its natural beauty. It features serene woodlands, boutique shops selling unique gifts, country pubs and charming British attractions. There are also several old churches to discover and buildings made from hand-quarried, aged limestone that ooze rustic appeal. While in the Cotswolds you can visit Stratford-upon-Avon, which is most famous as the probable birthplace of William Shakespeare. There are numerous attractions to enjoy, including Shakespeare-themed tours that take you to the buildings and sights that are connected to the playwright, making it an excellent choice for a family vacation.
Cambridge, Norfolk and Cornwall: An Experience of the UK's Diversity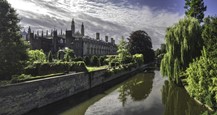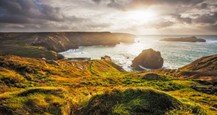 This multi-centre UK tour takes you to some of our personal favorites, where you can explore the many faces of UK culture.
Cambridge is another of the UK's top university towns and the city boasts the second oldest university in the English-speaking world. Its former graduates include a whopping 61 Nobel Prize laureates, as well as famous faces, such as Hugh Laurie, Thandie Newton and Emma Thompson. If you enjoy architecture, then you will love the historic university buildings, but the city also has a charming laid-back atmosphere that is very appealing for a relaxing yet cultural UK vacation – we recommend visiting in the summer months when there are plenty of fairs and festivals to enjoy and that is also the perfect time to enjoy punting on the River Cam!
Norfolk is a coastal county situated to the north-east of Cambridge and, here, you can rent a canal boat to enjoy the Norfolk Broads, which are a network of rivers and lakes surrounded by pretty landscape, riverside windmills and quaint country houses. The beautiful scenery alone makes for a wonderful getaway but there are also numerous country estates that you can visit, including Sandringham House, which is owned by the Royal Family.
Cornwall is fast becoming one of the UK's most popular retreats thanks to its pretty beaches, quaint fishing villages and simply stunning coastal and sea views. Our personal favorite village to visit is Trebetherick, which is not far from the famous fishing village of Padstow. Trebetherick has the sort of unspoiled countryside and beaches that you would expect from a quintessentially English vacation resort, and you can enjoy a glorious coastal walking trail here that has too-pretty-to-believe views of the sea and coast. There are also several charming cafes, bars and restaurants to enjoy, as well as a luxury golf course. It's also not far from the Camel Valley Vineyards, where you can enjoy a wine-tasting experience and vineyard tour.
We specialise in UK tours and vacations, and have a wealth of experience in creating tailor-made multi-center tours of the UK. If you are thinking about visiting the UK on vacation and would like a member of our expert team to put together a tailor-made itinerary for you, please contact us. Alternatively, if you would like to browse our vacation offers, please visit the dedicated section of our website.
Search Keywords
Enter keywords below to perform a search within the events to find more relevant posts