Visiting the Channel Islands
The Channel Islands are an archipelago in the English Channel off the French coast of Normandy.
The Channel Islands are a popular vacation destination for those that want to enjoy a unique culture that blends an English way of life with French flair. Being surrounded by coast, they also offer the opportunity for a wonderful beach vacation, while also allowing you to enjoy historic attractions and maritime activities.
About the Channel Islands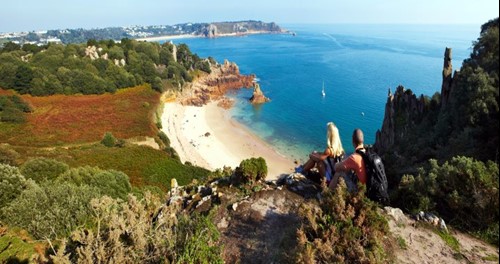 The Channel Islands are an archipelago in the English Channel and the largest of the islands is Jersey, followed by Guernsey, Alderney, Sark, Herm, Jethou and Brecqhou. There are also several uninhabited islands that are part of the Channel Islands, including The Minquiers, Burhou and Caquorobert.
The Bailiwick of Jersey and the Bailiwick of Guernsey (consisting of Guernsey, Alderney and Sark) are Crown Dependencies, which means that although they are not part of the UK, they are considered territories for which the UK is responsible. However, they are self-governing and are not part of the Commonwealth or European Union.
In total, the Channel Islands comprise just 198 sq. km and are home to around 164,000 residents. However, don't let their small size fool you, as these islands are home to idyllic scenery and sublime beaches, making them an excellent choice for a beach vacation. In fact, tourism is a large part of the economy, along with the finance sector as the beneficial taxation rates mean many companies choose to be based in the Channel Islands.
Although English speaking, the culture of the Channel Islands is influenced by their proximity to France, making these islands a wonderfully unique and diverse place to visit.
Getting to the Channel Islands
There are three airports in the Channel Islands: Jersey Airport, Guernsey Airport and Alderney Airport. These airports are served mainly by other UK airports, such as London Gatwick, but there are some European connections available, such as flights from Bern in Switzerland and Dublin in Ireland.
Top Resorts in the Channel Islands
The two main Channel Islands resorts are Jersey and Guernsey, and we recommend selecting one of these islands for your Channel Islands vacation or taking a tour of the islands on a custom-made multi-center vacation.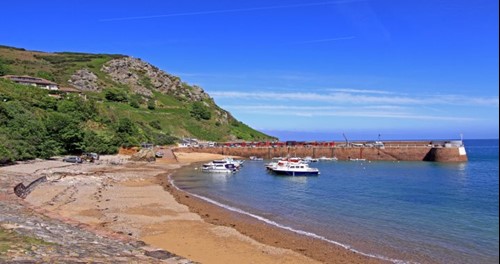 Jersey
Jersey is the largest of the Channel Islands and a popular choice for a luxury vacation. The island is divided into 12 parishes, all of which border the sea as the island is only 118 sq. km. The parishes were named after the Christian saints to whom their ancient parish churches were dedicated, and popular parishes to visit include Saint Helier (the capital) and Saint Brelade.
Jersey boasts an idyllic climate, with warm summers and mild winters, and this has cultivated some wonderful wildlife that you can explore on a Jersey vacation.
Guernsey
Along with several smaller islands, Guernsey forms the Bailiwick of Guernsey, which is a self-governing Crown dependency.
Similar to Jersey, Guernsey is divided into parishes, with 10 in total. The biggest parish is Castel, while the most populated is St Peter Port, and both are excellent choices for a vacation.
Guernsey's coastline spans a total of 46 km, which is home to rocky coves, as well as protected marine reefs. Together with its mild climate, Guernsey is the perfect choice for a Channel Islands vacation if you want to immerse yourself in nature and enjoy a relaxed pace of life.
Top Attractions on the Channel Islands

Jersey
Jersey's small size means that sightseeing is a breeze. While there are beautiful beaches and bays to enjoy, Jersey also has some cultural attractions that you must not miss.
One of the most popular cultural attractions in Jersey is the Maritime Museum in Saint Helier. Here, you can discover Jersey's maritime past through interactive exhibits. It is the perfect Jersey attraction if you want to learn more about seafaring, navigation and coastal living in Jersey in a fun and engaging way.
If you want to enjoy some history on your Jersey vacation, stop by Elizabeth Castle in Saint Helier. This ancient castle features battlements, turrets and bunkers, making it wonderful not only for those interested in maritime history, but also families looking for an educational day out. Note that the castle can be accessed on foot at low tide or by ferry if there is a high tide.
For an idyllic Jersey day trip, head to the Botanic Gardens at Samares Manor in Saint Clement. The gardens were developed in the 1920s and are now well established, with rose gardens, wild corners and sculpted fountains. There is also an on-site museum, bistro-style restaurant and plant center to enjoy.
Guernsey
Guernsey offers a diverse selection of attractions and is known for its watersports, especially kayaking, golfing opportunities and fascinating museums.
If you would like to learn more about one of Guernsey's most iconic residents – Victor Hugo (a celebrated 19th-century author) – you can visit his historic house, Hauteville House, in Saint Peter Port. Hugo was in exile in Guernsey in 1855 and was clearly inspired by the island in many of his works, including Les Miserables and Toilers of the Sea. (Note that Hauteville House is closed in 2018 for restoration works, but there is still a selection of exhibits to enjoy close to the house.)
Guernsey also has some historic buildings to enjoy that allow you to glimpse into the island's past. One of our favorite Guernsey attractions is Castle Cornet in Saint Peter Port. The castle has proudly guarded the harbor for 800 years, and features battlements and idyllic sea views. There are also five museums within the castle complex, period gardens and a refectory, meaning you can spend a whole day enjoying this historic Guernsey attraction.
However, if you're looking for an adrenaline-filled treat, we recommend stopping by the Guernsey Aero Club, where you can enjoy a flying lesson in a light aircraft. There is surely nothing like seeing the Channel Islands from the sky!
Channel Islands Cuisine
Surrounded by coastline, Channel Islands cuisine is dominated by seafood, especially mussels (locally known as moules), oysters, lobster and crab. However, agriculture has also played an important role and potatoes are a staple of Channel Islands cuisine, typically served simply boiled with melted butter. Apples are also grown locally and used to prepare local sweet dishes, such as apple dumplings (called bourdélots), as well as cider and apple brandy.
Milk has also traditionally played an important role, and Jersey milk in particular is known for its rich and creamy texture. However, it is usually imported milk that is used to make local Jersey fudge as Jersey herds can be found across the UK.
Book a Vacation to the Channel Islands
We specialize in custom UK tours and vacations, and we can create a dream vacation to the Channel Islands just for you. As a part of our dedicated UK travel service, we can arrange:
Return flights (from your choice of airport)
Private airport transfers, allowing you to arrive in style
Accommodation (including self-catering villas)
Day trips and activities
Guided tours and entry tickets
Car rental
Restaurant reservations
If you would like to find out more about our vacations to the Channel Islands, please contact us on (US) 347-594-5500 or click here to send an online inquiry.
Search Keywords
Enter keywords below to perform a search within the events to find more relevant posts